HADLEY JUNIORS FOOTBALL CLUB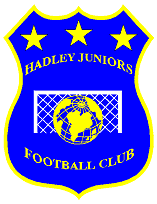 The 2006 - 2007 Season

For up to Date news about the club Click Here

Welcome to the web Shop of Hadley Juniors Football Club at ItAllHelps.com
All your purchases made through the site help to raise funds for our club
Hadley Juniors Football Club Code of Conduct
Hadley Juniors Football Club is based in Telford Shropshire, England. The club is a member of the Telford Junior Youth Football League.
Hadley Juniors Football Club strives to provide opportunities for local children to play association football and to enhance their skills and development to enhance their enjoyment and competitiveness whilst playing junior football.
Information can be forwarded personally or by email via the link above.
Make Hadley Juniors Football Club web site your Home Page
Last update 19th August 2006
Best Viewed at 1024 x 768